** Answers to Frequently Asked Questions **
1: The password you sent me isn't working
Please check the following if you've received your user name and password, but they don't appear to be working:
If you're typing the password, please check any characters which could be either a capital "i" or a lower case "L", because they look the same on screen, but using the wrong one will fail. Test both and one will be correct. (For example, does the following contain lower case L's or capital i's: gIl3tKD? – try both combinations, or alternatively copy/paste the password)
If you're copy/pasting the details into the login screen and it's not working, then please double-check that there's not an extra space character being inadvertently copied at the end. This can happen even if you select them perfectly. To check, paste what you've copied into a blank text document first and you should see what I mean.
IMPORTANT: 100% of the "password not working" problems I receive emails about are solved after following the above instructions. If you have followed these instructions and still can't access your purchase then please reply to this email again and let me know so I can look into it for you.
2 (a): I didn't receive a password after I purchased your tutorials
The automated confirmation email has probably ended up in your SPAM folder.
(If you use gmail, they like to filter certain messages into "promotions" and/or "updates" folders too.)
Your email provider thinks it is protecting you from SPAM messages by automatically "blocking" some/all emails from automated systems. However, they sometimes get it wrong. So if you are awaiting any kind of confirmation email from me for any longer than 10 minutes, please double-check your spam folder.
2 (b): My password is definitely NOT in my spam folder or my inbox
If this is the case then your email provider has probably blocked the email before it even reached your inbox (or spam folder).
To retrieve your password when this happens, enter your email address on this page to get a new password:
https://postprocessingmastery.com/wp-login.php?action=lostpassword
2 (c): I used the password recovery link and still didn't receive my password
If you've made it this far and still haven't received a password, it's possible you mistyped your email address on the order form (this is easy to do and happens more often than you might think!).
So if you've followed steps 2(a) and 2(b) above, and still haven't received your password – let me know and I'll look into it ASAP (make sure to tell me you've done steps 2(a) and 2(b) already)
3: Do you accept PayPal payments for your premium tutorials?
All of my courses are available for purchase using secure order forms that accept Visa, MasterCard and Amex cards. These purchases are instant and you will receive your login details immediately.
PayPal is available on some, but not all courses. I am slowly rolling out PayPal integration to all courses. When purchasing a course that does have PayPal as an option, your purchase will be instant and you will receive your login details immediately.
If you want to purchase a course using PayPal but there is no option for it, you may make a manual payment for the course, with some additional steps.
Use the following link to pay via PayPal, entering the correct amount for the course you wish to purchase: https://www.paypal.me/stevearnold/
Make a note on your payment stating:

The email address I have for you in my system (the one I'm writing to you on)
The name of the course you are purchasing

Wait for me to send your download access manually
It may take up to 24-48 hours to receive your purchase using this method, because I need to log in manually to set up and send you your access details.
4: I accidentally deleted, or did not receive one of your previous emails / videos… Can you re-send it?
Sure thing, I'll re-send it to you next time I log on
5: The video you sent me is blurry, is buffering, or just isn't working.
If you're trying to stream/play a video but it is either stopping every few seconds to catch up, or is blurry, or just isn't playing, then please perform the following three steps:
Test your internet connection download speed on this website: https://testmy.net/download
Compare your result to the download speeds listed on this page
On the video page, click the cog icon in the bottom right corner to see what resolution the video is being played at.
If your tested speed is less than the video resolution that is being played, then your internet connection is too slow to play the video at that resolution. Either wait for the entire video to finish buffering, or select a lower resolution.
For example:
In my test, in step 1 I have established that I have a 10Mbps download speed. In step 2, I can see that it is fast enough to stream the video at 1080p resolution. In step 3, I have selected 1080p. Anything higher than 1080p and I can expect the video not to play correctly because my internet connection can't handle it.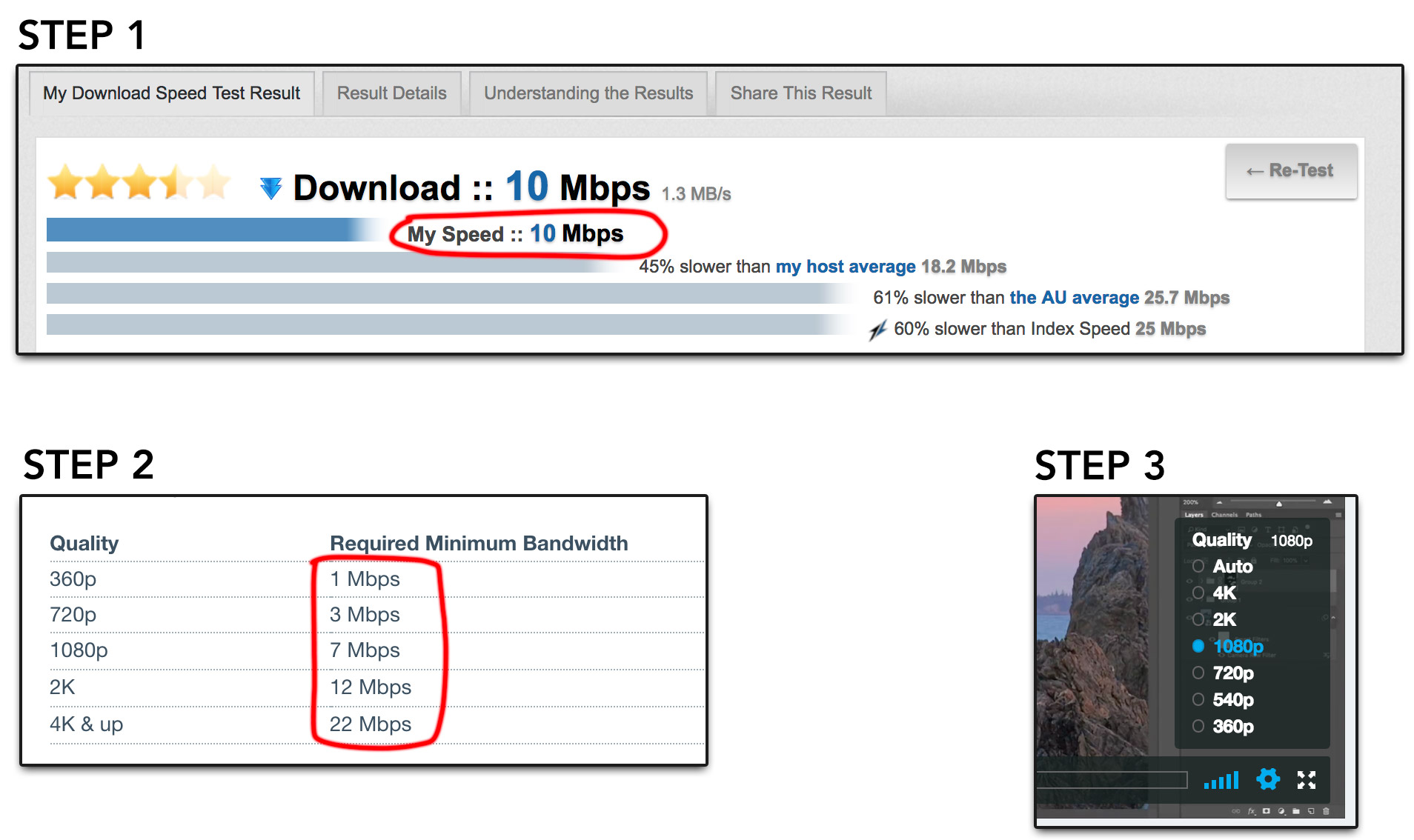 6: I don't have a question… I just wanted to say thanks for your email / video tutorials!
Well thank YOU 🙂 I really appreciate your feedback and look forward to sending you more great content soon 🙂